Neshama 2019: Eve Rediscovered
We have an amazing weekend planned for our
2nd Annual Neshama Conference!
Our line up of speakers and guest artists is not to be missed.
Bring your Bible and leave your misconceptions at the door!
Neshama 2019 is open to ALL Messianic women ages 16 and up
(This includes MJAA, UMJC, YMJA, J4J, Tikkun, other organizations, and unaffiliated)

.
Dates: August 31, 2019 @ 7:00pm – September 2, 2019 @ 12pm
Conference Registration:
$130 –
Includes Conference fee and
lunch & dinner on Sunday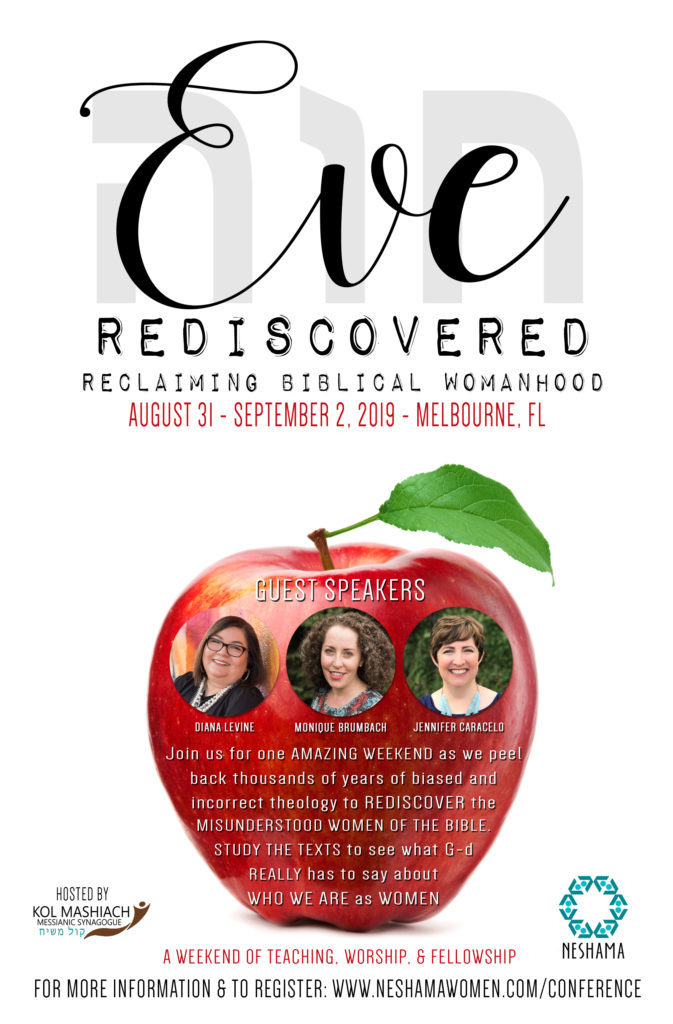 Shirt Preorders Have Closed
We may or may not have a limited amount of extra shirts available for sale the weekend of the conference, but the one way to guarantee you get your shirt in the size you want is to
preorder along with your registration. Click the "Register Now – Conference & T-shirt" button to include your t-shirt order with your registration cost.
(Please carefully measure one of your shirts and compare it to the sizing chart on this page to be sure you're ordering the size that's best for you. We cannot exchange sizes once you have ordered.)
Garment Measurements (inches)
length – (shoulder seam at collar to bottom hem)
width – (side to side at 1″ below the sleeves)
S M L XL 2XL 3XL
length
25 26 27 28 29 30
width 18 20 22 24 26
28
Sponsor the Neshama Conference!
Contact our Marketing Team for more information.
SCHEDULE* Saturday, August 31st
5:00 PM Registration for Conference opens

7:00 PM Conference Opens
Monday, September 2nd
*A more detailed session schedule will be posted closer to conference time
Location

Directions to Kol Mashiach: