Registration for Neshama 2018: Soul Stirring
is NOW OPEN.
We have an amazing weekend planned for our first annual Neshama Conference! Our line up of speakers and guest artists features some of the best women in Messianic Judaism. Your conference registration includes your full conference, a catered Shabbat dinner on Friday night, and lunch on Saturday.
Neshama 2018 is open to ALL Messianic women ages 16 and up
(This includes MJAA, UMJC, YMJA, J4J, Tikkun, other organizations, and unaffiliated)

.
Dates: October 19, 2018 @ 6:30pm – October 21, 2018 @12pm
Conference Registration: $115
Seating is limited, so
don't wait to register!

Sponsor the Neshama Conference! Our sponsorship package includes announcement during a main session and your materials in conference attendee gift bags. Contact us for more information.
Exhibitors: Are you interested in selling your books, music, art, Judaica, jewelry, or promoting your organization at the Neshama conference? Contact us for more information.
SCHEDULE* Friday, October 19th
4:30 PM Registration for Conference opens

6:30 PM Erev Shabbat Dinner (meal included in registration) Featured Speaker: Jennifer Caracelo
Saturday, October 20th
9 AM Torah Service & Roundtable Discussions. Featured Speaker: Marlene Rosenberg

12:00 PM Shabbat Lunch (meal included in registration)

1:30-3:30 PM Afternoon Session & Roundtable Discussions. Featured Speaker: Heather Rosenberg

3:30-4:30 PM Q&A with Our Speakers

7:30 PM Evening Session. Featured Speaker: Gloria Brawer

10 PM-Midnight Neshama Pajama Party – Marketplace Open
Sunday, October 21st
8:30 AM Marketplace Open

9:30 AM-12 PM Morning Session & Roundtable Discussion. Featured Speaker: Stephanie Escalante

12 PM Conference Closing

12-1PM Marketplace Open
*Session schedules are subject to change.
Conference T-shirts
When you register (by Oct. 1) and pay your conference fee, you'll have the opportunity to pre-order and purchase your Neshama 2018 t-shirt. They are 100% cotton and available in sizes small – 3x. While we will have a limited number of them available for purchase at the conference. The only way to guarantee that you get one in your size is to pre-order. T-shirts are just $15.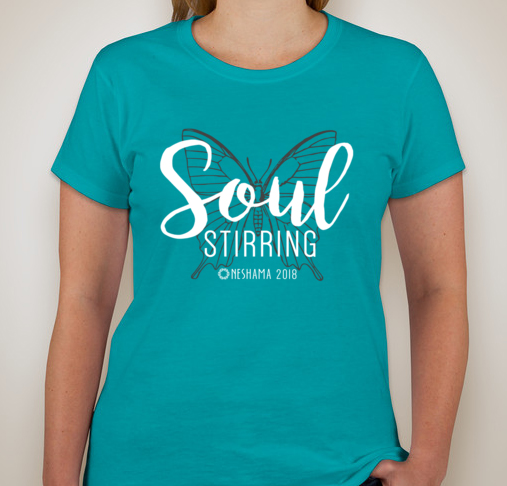 Location